Here is your recording of Aging in Fragile X Syndrome.
Many thanks to Dr. Elizabeth Berry-Kravis for another informative webinar. She joins us to discuss the value of the FORWARD database for understanding problems that face adults living with Fragile X syndrome. We review enrollment of adults in the database, describe the age ranges of those enrolled, and give a snapshot from data we have in FORWARD so far of what adults are doing in the community and their living situation. Finally, we talk about how families of adults can contribute to FORWARD and our understanding of adults with FXS by doing a research-only remote visit with a FORWARD clinic to increase the data pool for adults with FXS in FORWARD.
The webinar was held live on Monday, 11/7/2020. Below is a recording of the webinar. We will be adding a transcript and subtitles in the next couple of weeks. All registered attendees will be alerted when that is also available.
Educational resources like our webinars are provided free-of-charge to all families. If you are able to help support these programs so we can continue to provide new and updated resources, please consider donating today. Your donation is tax-deductible, we have the highest ratings from the independent non-profit rating organizations, and our online donation process is quick and secure.
1. Give today to support new and updated resources for Fragile X families, educators, and medical providers.
About Dr. Berry-Kravis
Elizabeth Berry-Kravis MD, PhD is a Professor of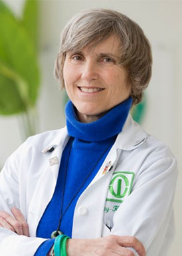 Pediatrics, Neurological Sciences, and Biochemistry at Rush University Medical Center in Chicago.  She established the Fragile X Clinic and Research Program in 1991, providing care to over 700 patients with fragile X syndrome (FXS) since that time. Her research has included studies of medical issues, epilepsy and psychopharmacology in FXS, neurological problems in FXTAS, and in particular translational work in FXS including outcome measures and biomarkers, natural history, newborn screening, and clinical trials of new targeted treatments in FXS. Her laboratory studies the relationship between FMRP and clinical function, and methods for optimizing genetic testing in FXD. In the past 18 years, she has been site or national PI on 24 clinical trials in FXS and numerous NIH-and CDC-funded projects on FXS. She is on the Scientific and Clinical Advisory Committee for the NFXF. She is Chair of the Clinical Committee of the FXCRC. She has received the Jarrett Cole Award for clinical work in FXS in 2002, the Hagerman Award for excellence in FXTAS research in 2004, the FRAXA Champion Award in 2011, the NFXF William and Enid Rosen Research Award in 2014, the March of Dimes Jonas Salk Research Award in 2015, the American Academy of Neurology Sidney Carter Award in Child Neurology in 2016 and the John Merck Fund Sparkplug Award in 2016, all for work in FXS.