FORWARD stands for Fragile X Online Registry With Accessible Research Database. It is a project funded by the Centers for Disease Control and Prevention (CDC) that collects data on people with Fragile X syndrome (FXS) who attend one of the 27 clinics around the country that are part of the Fragile X Clinical & Research Consortium (FXCRC). The Consortium was founded by the National Fragile X Foundation in 2006, and the FORWARD project launched in 2011.
There are now more than 500 individuals with FXS enrolled in the FORWARD database. FXCRC clinics hope to see these individuals and their families once a year to learn about the development of those with FXS, and to help researchers and doctors better understand their challenges and strengths. The project will also help us understand what treatments, educational interventions and other services people with FXS are receiving, how parents are managing the behaviors of their children with FXS, and what supports they are using.
Behaviors & Treatments
FORWARD data tells us that 40% of the individuals with FXS in the database are diagnosed with autism spectrum disorder (ASD) by their doctor. Also as individuals with FXS get older, many are prescribed medications used to treat a variety of behavior problems, including anxiety, attention, and aggression. For example: anxiety is the most common behavior problem in this study–diagnosed in 91% of individuals with FXS (green bar in figure below). This behavior is being treated with medication in 74% of individuals in the study (orange bar in figure).
Reaching Developmental Milestones
Another finding using FORWARD data is that children with FXS begin walking and talking at an older age than their non-affected peers, but the range for achieving these milestones is broad. This provides information for family members to help understand the expectations for development of a child with FXS.
Sleep Problems Most Common Complaint
Sleep problems are the most common reported complaints of parents, regardless of disability status. FXS is no exception. The most common issues among our reporting families are bedtime struggles, time required to fall asleep, and night awakenings. Parents reported success with both behavioral methods and medications (melatonin and clonidine are most frequently used).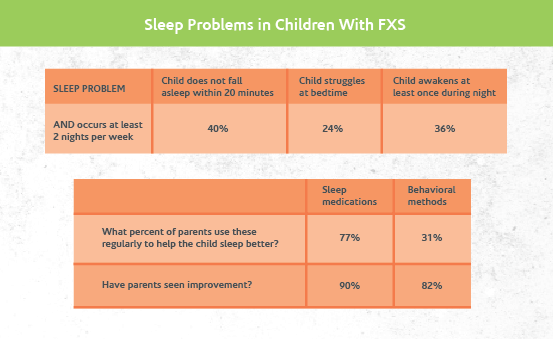 What Best Describes the Child's Educational Setting?
FORWARD has also collected information about education options for those with FXS. The figure below displays the types of school settings in which children with FXS spend most of their learning time. Almost three-quarters of children with FXS in the study spend at least some of their learning time with typical peers, while one-quarter are in a classroom without typical peers.

Sensory Processing Challenges
Individuals with FXS may have difficulties with sensory processing. The most frequently reported sensory problems and the interventions used to treat these problems are noted in the graph below. Almost all individuals receive some occupational or physical therapy for treatment; other therapies are used less.

FORWARD We Go!
As more information is collected in FORWARD, FXCRC clinics will be better able to help families and professionals understand FXS. We plan to continue to provide key information on a yearly basis. In this way, families can learn more about the value of the FORWARD study and determine which treatment and management works best for children with FXS.