Virtual Workshop – Supporting Adults with Fragile X and or autism spectrum disorder
July 6 @ 9:30 AM

–

4:00 PM

EDT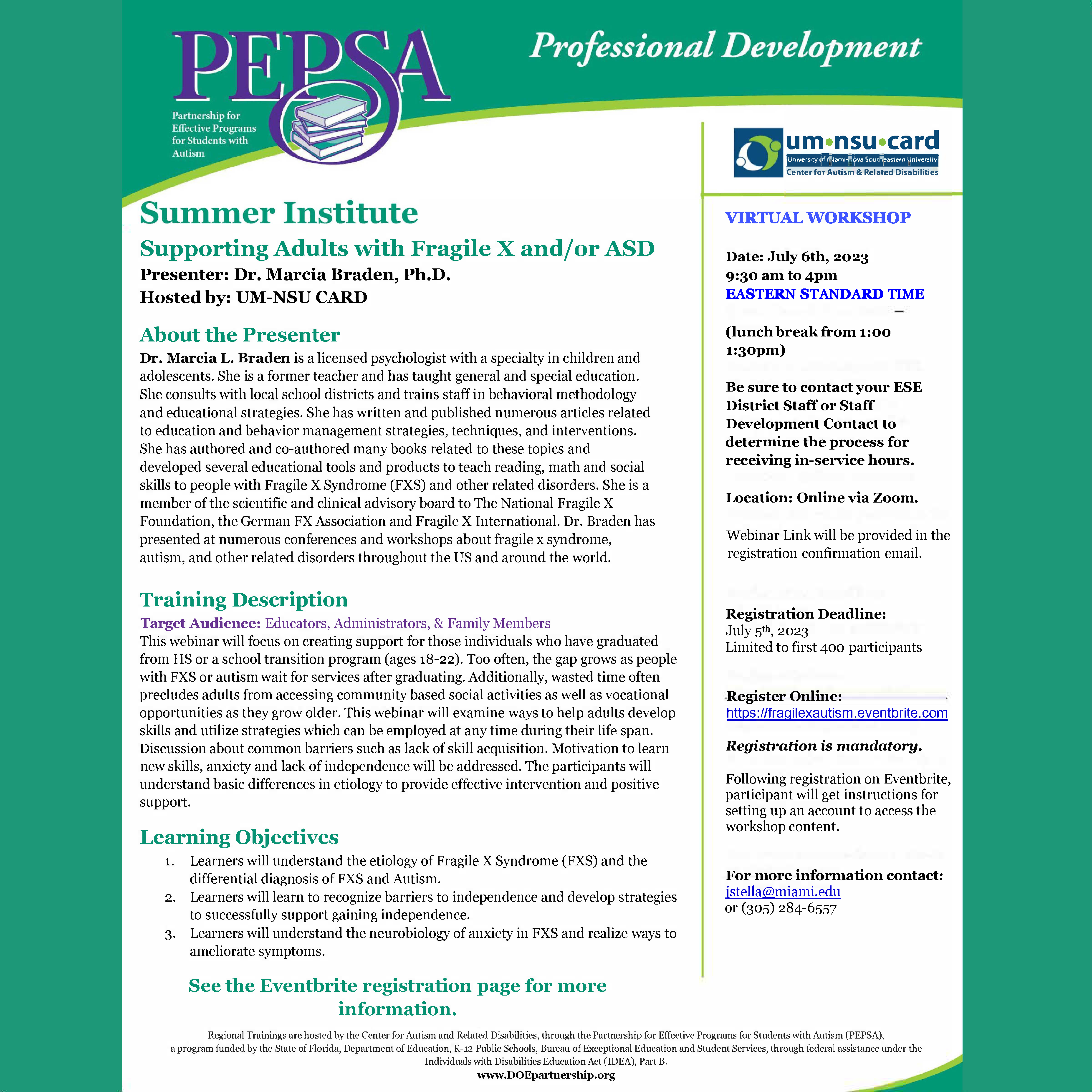 Families for Fragile X and University of Miami/Nova Southeastern University Center for Autism Related Disabilities (UM/NSU CARD) have partnered together for a full day webinar. Dr. Marcia Braden will discuss independent living, life skills and job skills.
This webinar will focus on creating support for those individuals who have graduated from HS or a school transition program (ages 18-22). Too often, the gap grows as people with Fragile X syndrome (FXS) or autism wait for services after graduating. Additionally, wasted time often precludes adults from accessing community based social activities as well as vocational opportunities as they grow older. This webinar will examine ways to help adults develop skills and utilize strategies which can be employed at any time during their life span.
Discussion about common barriers such as lack of skill acquisition, motivation to learn new skills, anxiety and lack of independence will be addressed. The participants will understand basic differences in etiology to provide effective intervention and positive support.
Dr. Marcia L. Braden is a licensed psychologist with a specialty in children and adolescents. She is a former teacher and has taught general and special education. She consults with local school districts and trains staff in behavioral methodology and educational strategies. She has written and published numerous articles related to education and behavior management strategies, techniques, and interventions. She has authored and co-authored many books related to these topics and developed several educational tools and products to teach reading, math and social skills to people with Fragile X Syndrome (FXS) and other related disorders. She is a member of the scientific and clinical advisory board to The National Fragile X Foundation, the German FX Association and Fragile X International. Dr. Braden has presented at numerous conferences and workshops about Fragile X syndrome, autism, and other related disorders throughout the US and around the world.