NFXF Webinar Series – Reproductive Health
August 30 @ 7:00 PM

–

8:00 PM

EDT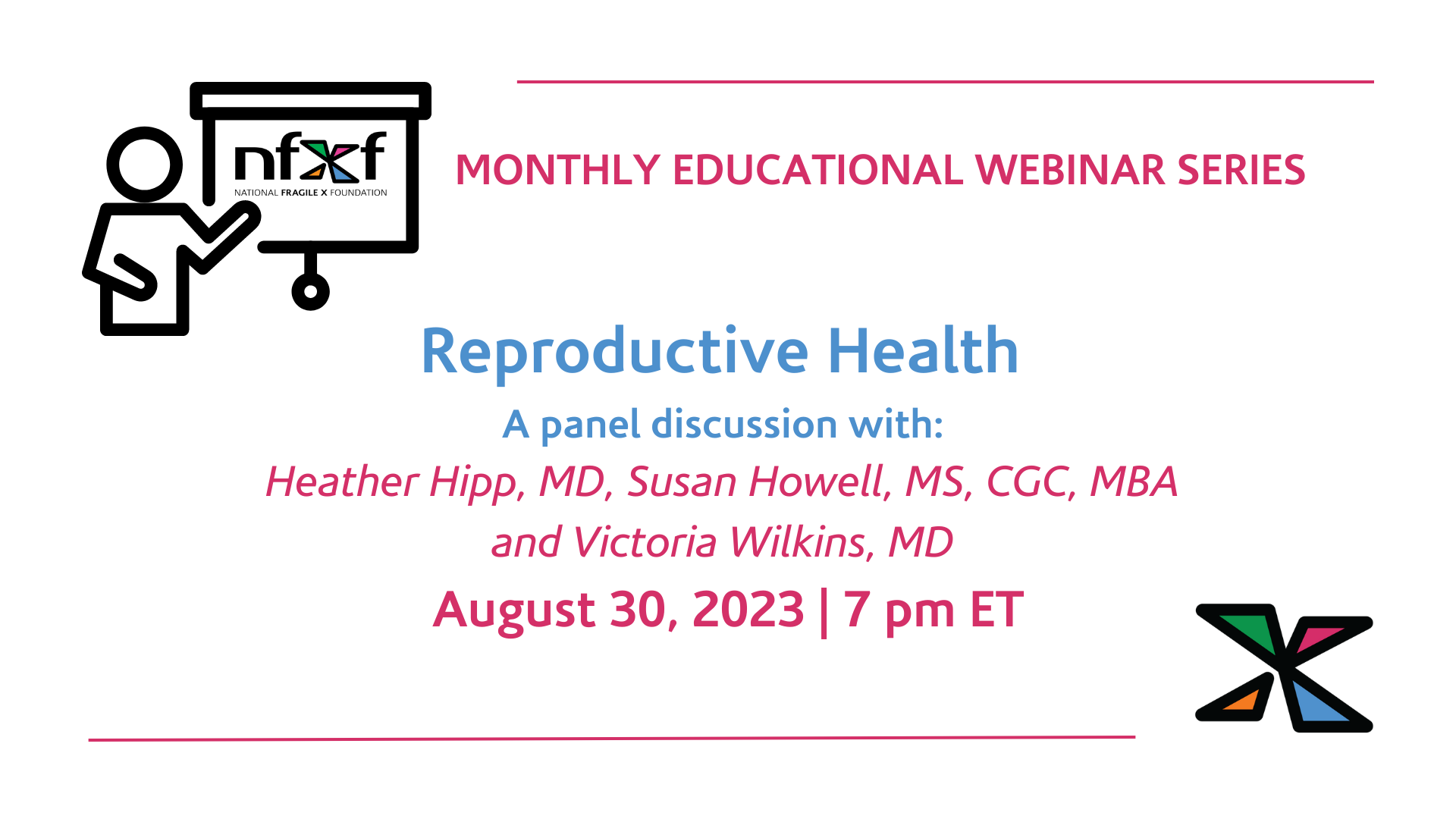 Reproductive health is a broad topic, covering the physical and emotional components of areas like puberty, sexuality, reproductive options, and family planning. These topics can be challenging to cover, but they are important! 
Join us as we host Heather Hipp, MD, Susan Howell, MS, CGC, MBA, and Victoria Wilkins, MD, for a discussion on Reproductive Health. The webinar will be a one-hour Q & A session, moderated by Hilary Rosselot.
We will share additional resources closer to the webinar. In the meantime, we recommend reviewing the compilation of resources at the link below and come prepared with your questions. You may also submit your questions in advance when completing your registration.
We will do our best to answer everyone's questions. If you have additional questions, feel free to email us at contact@fragilex.org.
The webinar will be recorded and available to all registrants.
Learn More About the Panelists
Heather Hipp, MD, an Assistant Professor at the Emory University School of Medicine and is board certified in Obstetrics and Gynecology and Reproductive Endocrinology and Infertility. She helped author the recent Fragile X Clinical and Research Consortium's guidelines for FXPOI. Dr. Hipp works at the Emory Reproductive Center, focusing on infertility. She maintains a special clinical interest in women with POI, working to care for their overall health and reproductive needs.
Susan Howell, MS, CGC, MBA is an Assistant Professor at the University of Colorado School of Medicine and has worked as the Genetic Counselor for the Denver Fragile X Clinic at Children's Hospital Colorado.. She has worked on a multitude of research projects including several industry-sponsored clinical trials of targeted treatments in Fragile X syndrome and the CDC-funded Fragile X Registry, FORWARD.
Victoria Wilkins, MD, is a pediatric hospitalist who specializes in provider-family communication, experience of care, and care for children with complex healthcare conditions. She has a son with Fragile X syndrome and developed a Fragile X practice and research portfolio. She trains and coaches physicians, nurses, and other healthcare providers in engaging in difficult conversations, conflict resolution, disclosure and resolution of adverse events, and shared decision-making. She is the medical director of experience of care at Primary Children's Hospital in Salt Lake City, Utah.
Related Events