NFXF Webinar Series – Fragile X–Associated Tremor/Ataxia Syndrome | FXTAS
November 14 @ 7:00 PM

–

8:00 PM

EST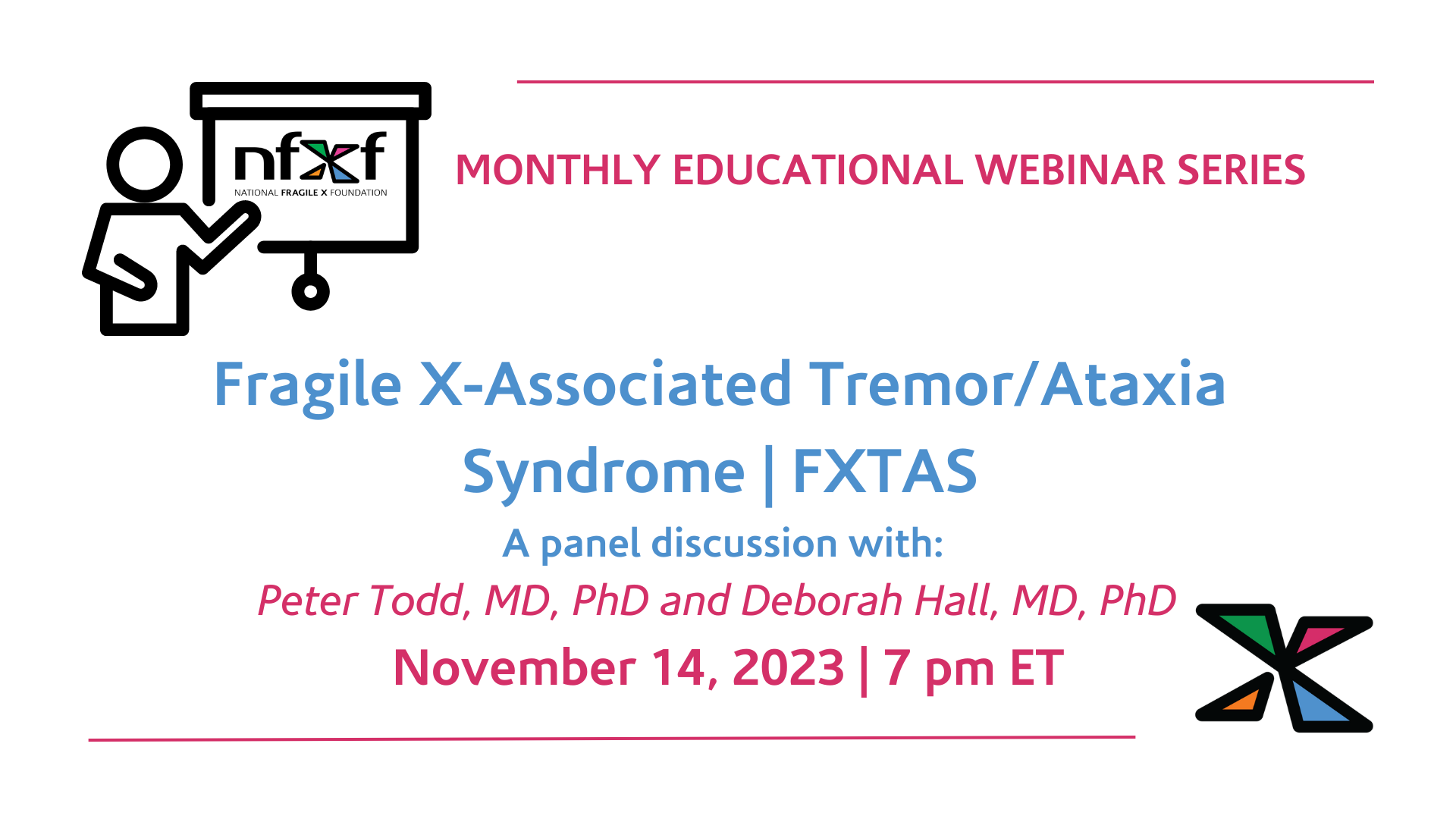 Fragile X–Associated Tremor/Ataxia Syndrome (FXTAS) is an "adult-onset" neurodegenerative disorder. FXTAS affects the neurologic system and progresses at varying rates in different individuals. All individuals with FXTAS are premutation carriers of the FMR1 (Fragile X) gene (CGG repeats 55-200). We invite you to join our panelists Peter Todd, MD, PhD, and Deborah Hall, MD, PhD on our next live webinar as we discuss the effects of FXTAS, goals for supporting individuals, and treatment modalities. Register HERE.
The webinar will be a one-hour Q & A session, moderated by Hilary Rosselot.
We recommend reviewing the compilation of resources at the links below and come prepared with your questions. You may also submit your questions in advance when completing your registration.
We will do our best to answer as many questions as possible. If you have additional questions, feel free to email us at contact@fragilex.org.
The webinar will be recorded and available to all registrants.
Learn More About the Panelists
Dr. Peter Todd is the Bucky and Patti Harris Professor in the Department of Neurology at the University of Michigan Medical School. As a clinician, Dr. Todd co-directs Michigan University's Multidisciplinary Ataxia Clinic where he sees patients with FXTAS (Fragile X-associated tremor/ataxia syndrome), and the Fragile X Syndrome Clinic  where he sees adult patients with Fragile X syndrome. He  also serves as director of the Clinical Neurogenetics Research Program, which aims to improve research and care for patients with inherited neurological disorders.
As a physician-scientist, the Peter Todd Lab studies the mechanisms by which nucleotide repeat expansions cause neurodevelopmental and neurodegenerative disorders with a long-term goal of developing novel therapeutics for currently untreatable conditions. His lab has published extensively on Fragile X-associated disorders, such as Fragile X syndrome and FXTAS, as well as C9orf72 repeat expansions that cause ALS (amyotrophic lateral sclerosis, or Lou Gehrig's disease) and frontotemporal dementia.
In the past decade, Dr. Todd has given over 80 invited presentations across the world and published over 50 papers on his research.
Dr. Deborah Hall is an adult neurologist and movement disorder specialist at Rush University Medical Center in Chicago. She has training in genetics, epidemiology, and human subjects research. She conducts research primarily in two areas. Her work in Parkinson's disease focuses on early interventions, such as neurotrophic factors and exercise, genetics and genomic causes of disease, and treatment for complications including falls. She also researches ataxia, specifically Fragile X-associated disorders, by investigating epidemiology, clinical features of movement and balance, and interventions. She has been National Institutes of Health–funded for the last 10 years as a primary investigator. She has a busy clinical practice focused on movement disorders within the Department of Neurological Sciences at Rush. She is the director of the FXTAS Clinic at Rush and the Movement Disorder DNA Repository within the Section of Movement Disorders at Rush. Dr. Hall received her doctorate from Indiana University and her master's from the University of Colorado, where she completed her residency and fellowship.
Related Events