NFXF Webinar Series: FORWARD-MARCH
September 29 @ 3:00 PM

–

4:00 PM

EDT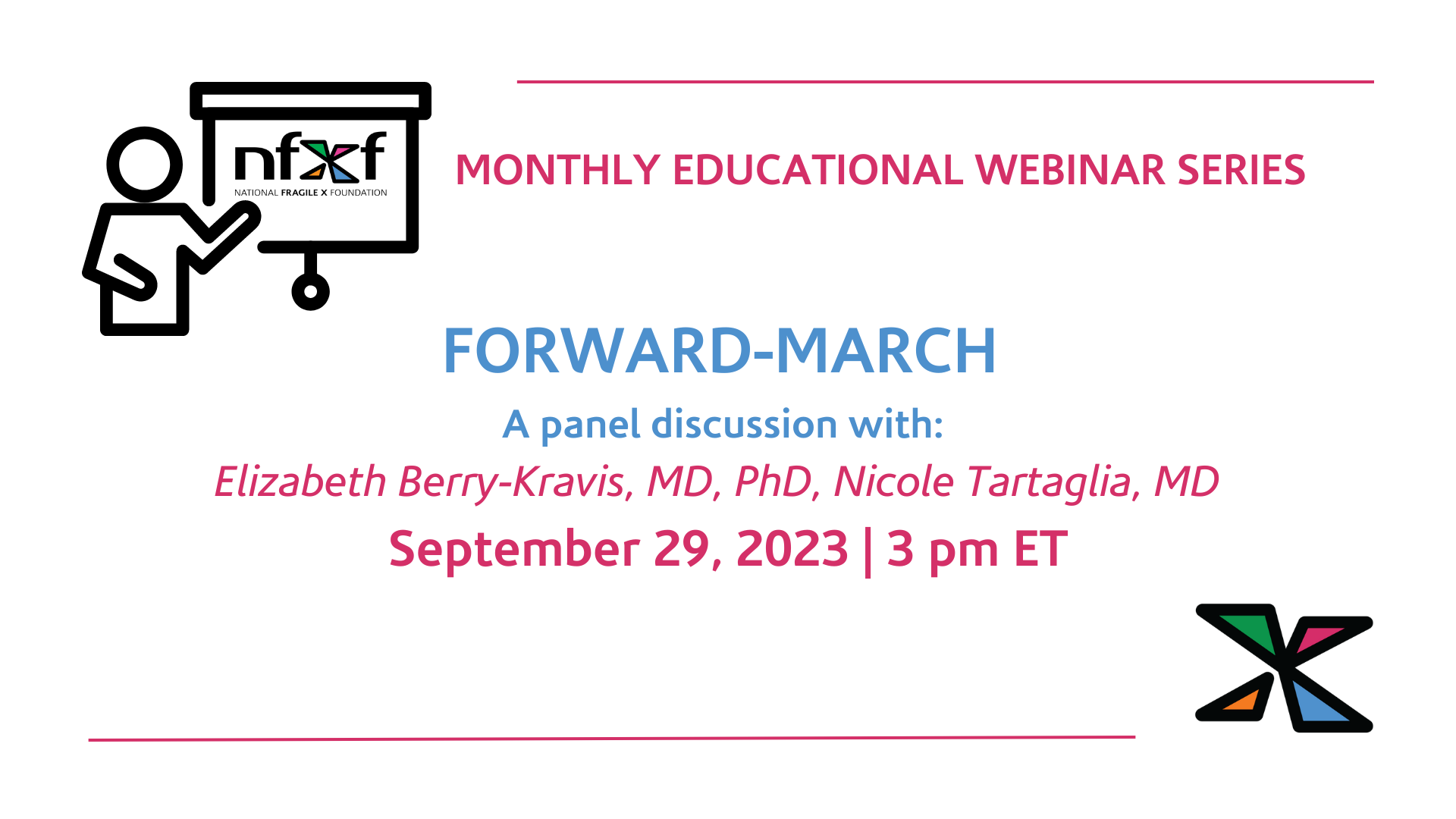 We continue to make strides in Fragile X research! Over the past 15 years, CDC has funded four FORWARD (Fragile X Online Registry With Accessible Research Database) Fragile X studies to expand understanding of Fragile X syndrome (FXS).
In September of 2021, the CDC issued an award to continue building this infrastructure and we are now entering the fourth study called FORWARD-MARCH (Multiple Assessments for Research Characterization)!
Our esteemed colleagues: Elizabeth Berry-Kravis, MD, PhD, and Nicole Tartaglia, MD will join us live to share the latest updates and answer questions about FORWARD-MARCH.
The webinar will be moderated by Amie Milunovich. 
Register HERE.
We recommend reviewing the compilation of resources at the link below and coming prepared with your questions. You may also submit your questions in advance when completing your registration.
We will do our best to answer as many questions as possible. If you have additional questions, feel free to email us at contact@fragilex.org.
The webinar will be recorded and available to all registrants.
Learn More About the Panelists
Elizabeth Berry-Kravis, MD, PhD, is a professor of Pediatrics, Neurological Sciences, Anatomy, and Cell Biology at Rush University Medical Center in Chicago. She attended the University of Notre Dame for her undergraduate studies and the University of Chicago for her medical degree, PhD, and training in pediatric neurology. In 1992, Dr. Berry-Kravis established the Fragile X Clinic and Research Program, through which she provides care to over 700 patients with Fragile X syndrome.
She has studied Fragile X syndrome medical issues, epilepsy, and psychopharmacology, and has been a leader in translational research, including the development of outcome measures and biomarkers, natural history studies, newborn screening, and particularly clinical trials of new targeted treatments.
Her laboratory studies cellular roles of the Fragile X protein (FMRP), its relationship to phenotypes, and optimization of genetic testing methods.
Nicole Tartaglia, MD, works as faculty for the Colorado School of Medicine at Children's Hospital Colorado in the Department of Pediatrics Section of Developmental Pediatrics, where she founded and directs the eXtraordinarY Kids Clinic for children and adolescents with sex chromosome disorders, and is also the director of the Denver Fragile X Clinic. In these clinics, she leads multidisciplinary teams that include medical providers, genetic counseling, psychology, speech-language therapy, occupational therapy, nursing, and social work, and collaborates extensively with community providers, therapists, and schools to provide optimal care for these special populations. She also evaluates and treats children with general developmental delays, autism spectrum disorder, ADHD, and other neurogenetic disorders.
She attended university and medical school at the University of Colorado. She completed her training in general pediatrics at Children's Hospital Los Angeles, and fellowship training in developmental-behavioral pediatrics at the University of California Davis MIND Institute, where her research focused on children and adults with developmental disabilities, chromosomal abnormalities, Fragile X syndrome, and autism spectrum disorder. She also obtained her master's in clinical investigation from the University of Colorado Graduate School.
Dr. Tartaglia has federally funded research projects evaluating natural history and outcome measures in sex chromosome disorders and Fragile X and collaborates with national networks of clinics to develop best practices for treatments of these conditions. She is also very active in clinical trials of targeted treatment medications for neurobehavioral features and developmental disabilities. Dr. Tartaglia is also a member of the NFXF's Clinical Trials Committee.
Related Events