NFXF Webinar Series – Educational Strategies for Success
August 15 @ 7:00 PM

–

8:00 PM

EDT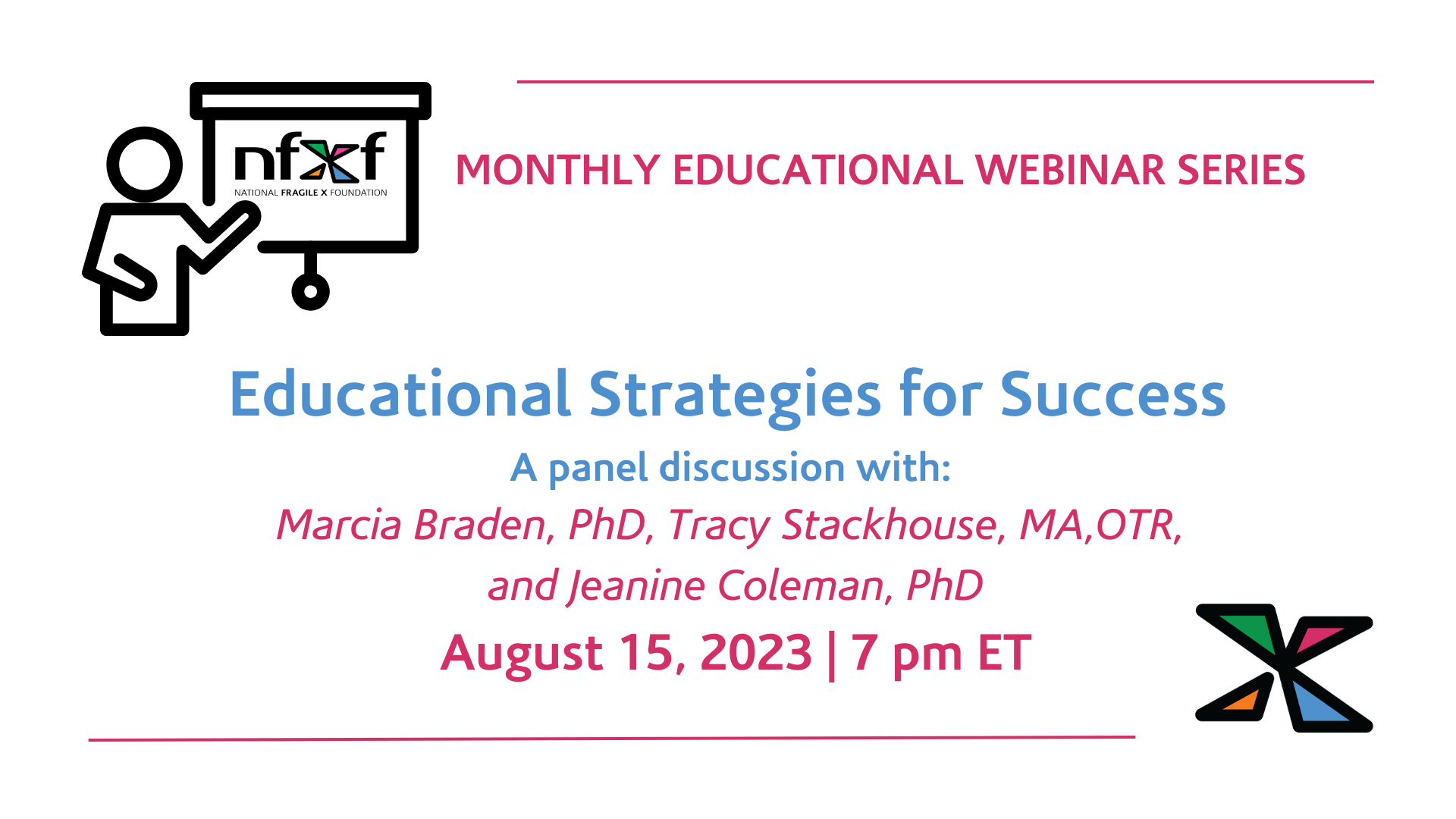 Join us as we host Marcia Braden, PhD, Tracy Stackhouse, MA, OTR, and Jeanine Coleman, PhD, for a discussion on educational strategies for success. The webinar will be a one-hour Q & A session, moderated by Hilary Rosselot.
Educational strategies are not just helpful for school-aged children! These panelists have expertise and suggestions to support individuals living with Fragile X throughout the lifespan!
Registration is required: https://info.fragilex.org/educational-strategies-success-2023
We recommend reviewing the compilation of resources at the link below and come prepared with your questions. You may also submit your questions in advance when completing your registration.
We will do our best to answer everyone's questions. If you have additional questions, feel free to email us at contact@fragilex.org.
The webinar will be recorded and available to all registrants.
 Learn More About the Panelists
Marcia L. Braden, PhD, is a licensed psychologist with a clinical practice specializing in children and adolescents. She is a former teacher with experience teaching general and special education. Dr. Braden has presented at numerous conferences and workshops about Fragile X syndrome, autism, and other related disorders throughout the US and around the world. She has worked with countless individuals living with Fragile X syndrome across the lifespan.
Tracy Murnan Stackhouse, MA, OTR, is co-founder of the Developmental FX in Denver, Colorado. She is a leading pediatric occupational therapist (OT) involved in clinical treatment, research, mentoring, and training regarding OT intervention for persons with neurodevelopmental disorders, especially Fragile X syndrome and autism.
Jeanine Coleman, PhD, is an Associate Professor at Regis University and serves as the Director of the Global Inclusive College Certificate. She coordinates the Denver NIH Toolbox Research in collaboration with other institutions in California, Illinois and Ohio.
Related Events