NFXF Webinar Series – Employment Strategies and Successes
October 24 @ 7:00 PM

–

8:00 PM

EDT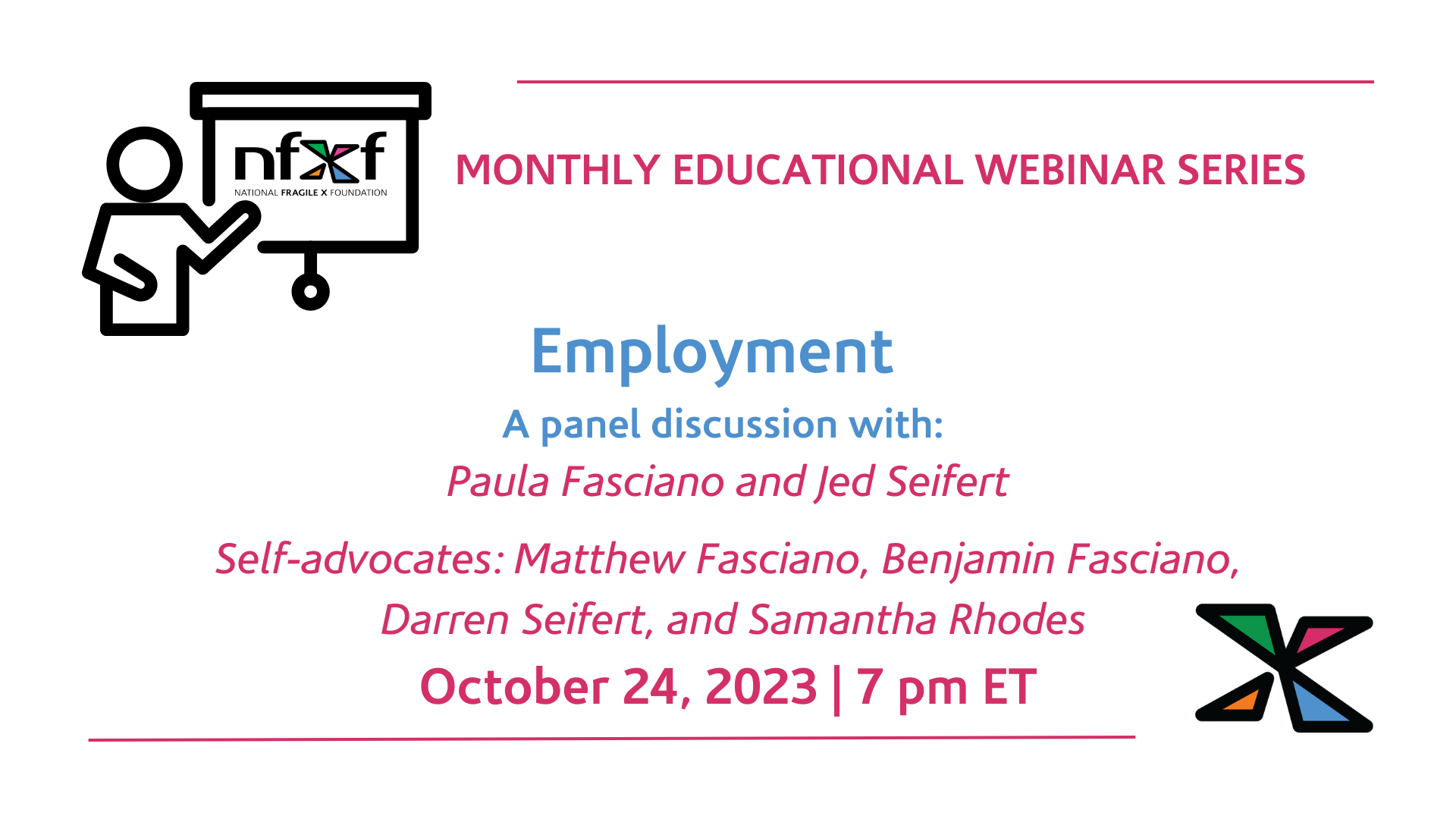 October is National Disability Employment Awareness Month, and we want to celebrate by sharing success stories and strategies with the community! Meaningful employment is important to parents and self-advocates. Register HERE.
Join us as we host two of our own community members, Paula Fasciano and Jed Seifert, and hear about their success in starting their own businesses and employing individuals with disabilities. Also joining us are four self-advocates, Darren Seifert, Matty Fasciano, Benji Fasciano, and Samantha Rhodes, who will share their experiences in joining the workforce. The webinar will be a one-hour Q&A session, moderated by Hilary Rosselot.
We recommend reviewing the compilation of resources at the links below.
Come prepared with your questions. You may also submit your questions in advance when completing your registration. We will do our best to answer as many questions as possible. If you have additional questions, feel free to email us at contact@fragilex.org.
The webinar will be recorded and available to all registrants.
Learn More About the Panelists
Paula Fasciano
Paula is the mother to Matty and Benji who both live with Fragile X Syndrome and the owner of Bake Ability in Pennsylvania. Paula has served in several roles within the National Fragile X Foundation and has been a wonderful mentor to many.
Jed Seifert
Jed is Co-founder of Stakes Manufacturing, a print-on-demand apparel company in Cleveland, Ohio and younger brother to Darren who lives with Fragile X. Jed employs several individuals with disabilities and currently serves as a board member for the National Fragile X Foundation.
Matty Fasciano
Matty is a young adult and is living with Fragile X syndrome. He resides in Pipersville, Pennsylvania with his younger brother Benji and parents, Paula and Anthony. 
He works part-time for PennEngineering, a firm that was created by the University of Pennsylvania and is one of 5 members of their Eye Checker Team. On weekends Matty works at his mom's bakery, Bake Ability. He is all about technology and loves taking photos with his cell phone and digital camera.
With a support person two days a week, Matty works out at the YMCA, bowls in a league with peers, goes out to lunch, and shops for personal items. He is an avid NFL fan and has become partial to the Phillies, Eagles, Sixers, and Flyers.
Matthew loves to travel and is a great big brother to Benji, his dog Poldark, and his cats Demelza and Moira.
Benji Fasciano
Benji is a young adult and is living with Fragile X syndrome. He resides in Pipersville, Pennsylvania with his older brother Matty and parents, Paula and Anthony. 
He is an AVID NFL fan and actively participates in a Fantasy Football League. He loves to be outdoors and play, preferably swimming, running track, playing rugby, basketball, or baseball and he loves to travel!
Benji's favorite food is brownies with Chocolate chip cookies running a close second. Good thing he works in his mom's bakery, Bake Ability!
He attended YMC Camp as a "Leader in Training"- where he led a group of younger campers for part of the day, and was a camper for the other part. Benjamin is in his final year of high school and continues to participate in the TOPSS (Transition Opportunities for Post-Secondary Success) program.
Darren Seifert
Darren is the older brother to Jed and lives with Fragile X Syndrome. He resides in Rockville, Maryland, and has worked as a mail clerk in the Securities & Exchange Commission for 23 years. His job has enabled him to move out of their parent's home, become financially independent, find purpose, fulfillment, and pride, make work friends, and be happy. Darren is a Special Olympics athlete in running, kayaking, and downhill skiing.
Samantha Rhodes
Samantha is 25 years old and lives in Hoover, Alabama. She earned a B.S., in Culinary and Hospitality Management from Jacksonville State University in 2022. She also has an associate degree in Baking and Pastry from Jefferson State Community College. She works at the Renaissance Birmingham Ross Bridge Golf Resort and Spa in the pastry department. In 2006 she was diagnosed with the full mutation of Fragile X Syndrome and throughout her life, she has learned to cope with the symptoms and has been very successful. In her free time, she likes to go to concerts with her friends.
Related Events