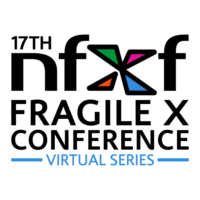 Fragile X Research Roundup is the final of our three events in the 17th NFXF International Fragile X Conference — Virtual Series, and coincides with National Fragile X Awareness Day!
Presentations will be a combination of live and recorded sessions, social interactions, and unique learning opportunities, with timely and valuable educational content presented by highly-regarded experts in their fields.
This is the final event of our three-part summer series:
Part 1: Fragile X Syndrome Across the Lifespan May 29–30, 2020 | Fri–Sat
Part 2: Premutation Carrier Issues June 27, 2020 | Sat
Part 3: Fragile X Research Roundup July 22, 2020 | Wed
Registration
The financial impacts of the global health crisis are varied and widespread. That is why we are offering you the ability to choose what you can pay for this valuable educational series.
All levels of registration provide access to:
Virtual sessions (live and recorded)
Live Q&A's with presenters
Connecting virtually to other families, professionals and sponsors
EVERY presentation (48 hours of content) slides, articles and recordings for six months