We asked families and self-advocates with Fragile X syndrome to share stories of Xtraordinary employees. We do this not only to inspire other FXS young (and old) adults, we want to inspire and help spread the message to employers who need to know about the unique perspectives, enthusiasm, and loyalty they'll find when hiring individuals with intellectual and developmental disabilities.
And since employers tend to rely on measurable results, we'll mention one of the many studies on this topic — A Systematic Review of the Benefits of Hiring People with Disabilities — which found that hiring people with disabilities benefits both the employer and the employee. The study cites the benefits for employers:
Profitability, e.g., profits and cost-effectiveness, turnover and retention, reliability and punctuality, employee loyalty, company image.
Competitive advantage, e.g., Diverse customers, customer loyalty and satisfaction, innovation, productivity, work ethic, safety.
Inclusive work culture.
Ability awareness.
And for employees:
Improved quality of life and income.
Enhanced self-confidence.
Expanded social network.
Sense of community.
More and more organizations are actively recruiting employees with disabilities — check out Employment Opportunities for Your Young Adult — but there's still a long way to go.
But enough statistics, we love stories, and want to share this one sent to us by Jennifer Thiede, "proud mother" to Zachary Fraser-Thiede. (Note: Links added by us.)
My 18-year-old son, Zachary, loves animals. He participated in a fundraiser to support cheetahs. He by far raised the most money for this event sponsored by Chris and Martin Kratt of the Wild Kratts. The set goal for the fundraiser was to walk 2 miles, Zachary wanted to do more. He added an extra mile onto his daily 1 mile for 20 days and raised over $1,800 to help save the cheetahs of North America. He was so proud and happy. The cheetah is his favorite animal.
I wanted to bring more animal experiences into Zach's life and for a year I worked on the opportunity for Zach to work at a somewhat local zoo. The owner was hesitant, but when I told him my son's story and the joy that it would bring along with a sense of purpose for my son, he agreed.
Zach has been volunteering once a week for a few months now and has developed special relationship with the animals and zookeepers. The best part about volunteering at the Monterey Zoo is that Zach gets to say hello to all the animals and check to see if they are doing well.
One time he alerted a zookeeper of a bloody paw on the cougar and another time he pointed out that one of the North American tortoises was just about to dig deep enough under the fence to escape. Zachary also cleans the signs and points out spiderwebs to be removed.
—Jennifer Thiede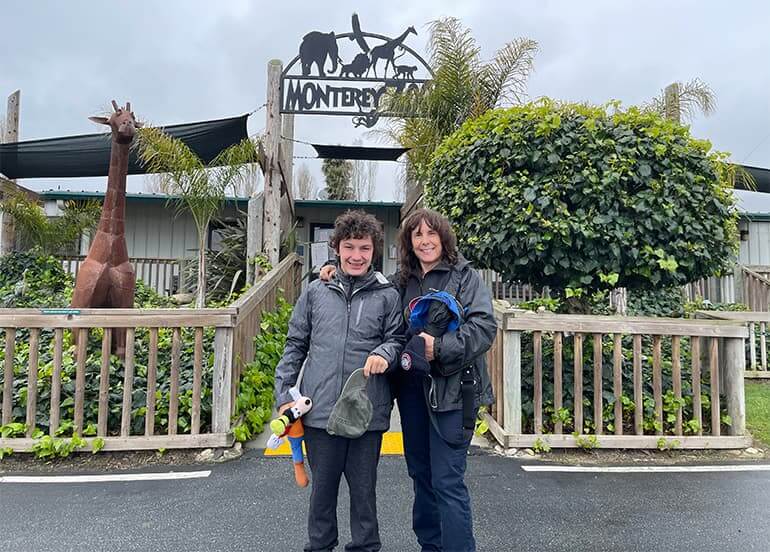 Jennifer also sent us this Q&A with Zach that the Wild Kratts published after Zach won the Cheetah Challenge:
Cheetah Challenge Winner!
Meet Zachary, he won the Cheetah Challenge by raising over $1,800 for wild animals!
Favorite Creature? Cheetah!
What got you interested in wildlife? My family has always spent a lot of time outdoors in nature where we observe wildlife in natural habitats. We also go to wildlife refuge centers to learn about and see wild animals. I now volunteer at a local wildlife animal center.
What did you do for the Cheetah Challenge? The fundraiser goal was 2 miles, but I walk everyday, so I wanted to do more. I chose 20 miles and I did it! My friends and family know how much wild animals, especially cheetahs, mean to me. They believe in the cause and they believe in me. They also know that I have been an avid Wild Kratts fan for 15 years.
Tell Us About An Xtraordinary Employee in Your Life
Do you know someone with Fragile X who volunteers or has a part- or full-time job? Let us know using the form below, we'd love to hear about them!
learn more
NFXF
Learning to ride a public bus independently is a skill that many children with Fragile X syndrome (FXS) will be able to learn. Take it slow, focus on safety and routine, and guide them to independence.
NFXF
I realized when my son Ian was just 4 years old that he had difficulty with transitions. I had never thought about transitions being difficult. You just did them - you didn't think about it. Well, with Ian, I started thinking about them. I still do to this day. I quickly learned I had to allow plenty of time for everything, arrive early to events, set up schedules and routines, take time for transitioning back home—and that was just the beginning.