As I watched the new U.S. House of Representatives be sworn in today and elect Rep. Nancy Pelosi as its new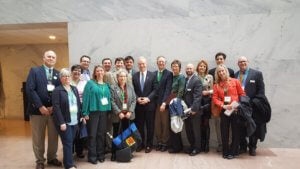 Speaker, I was reminded, again, that we are fortunate to live in a country where we can change control in Washington in the voting booth, not with tanks in the street. And when change happens, it is peaceful outside the Capital and collegial inside.
This first time I heard this point being made was as a staff member for a U.S. Senator, and he was providing encouragement to us following an election that moved us from the majority to the minority. In fact, since I first got involved in politics over 25 years ago, the Senate has switched party control eight times, the House four times, and we have had four Presidents.
With the new House, nearly twenty percent of the members of Congress are new, and seventy percent have served less than 10 years.
All that is to say, it is just affirming the National Fragile X Foundation's approach to our advocacy efforts for more than a decade:
We are non-partisan because Fragile X is non-partisan. Together, we support policies that cross party lines. Individually, we make our voices heard on issues where we disagree on the right solution.
We come to DC every year, together as one voice, and meet with members of Congress at home throughout the year, because Congress is always changing, so we need to continually connect, educate, and advocate.
We advocate with passion and civility.
We support policies that advance research and awareness for Fragile X and improve on the status quo for those living with Fragile X and all intellectual and developmental disabilities.
We advocate strategically so our successes outweigh our size.
We like to say, Together, We're Stronger, and advocacy is one area that is very clear. While one person might be able to change the world, a group has a much better chance.
Thank you for all of you who have advocated so passionately over the years. Fragile X families are better off because of you.
If you would like to get involved in our efforts, including joining us in DC on February 25-26 for our annual NFXF Advocacy Day, visit our Advocacy page. Please let me know if you have any questions at dan@fragilex.org.