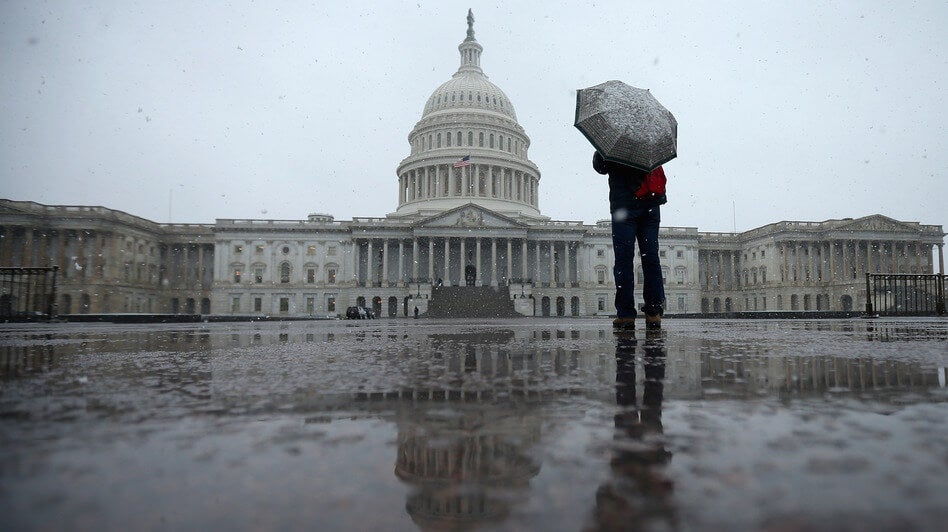 The storm was billed as epic in size and duration. Its path eastward had already left a trail of one- and two-foot snowfalls across more than eight states. As NFXF Advocacy Day 2013 approached, the 24-hour news cycle became ever more consumed with coverage of this monster storm. Phone calls and all modes of e-communications urgently questioned: Could our Advocacy Day scheduled for March 6, 2013 possibly go ahead?
The foundation's team of (very) amateur meteorologists quickly assembled and the decision was made to proceed. The word went out: No cancellation! Board your planes and travel to DC! Nearly 90 percent of the 200+ registered did just that. Like mail carriers, Fragile X advocates would not be repelled from storming (sorry) the Hill to fight for the members of their families.
Tuesday, March 5 was training day, and it was eerily calm and actually quite nice: nearly 50 degrees and sunny. But the experts at the Weather Channel knew better; Washington DC was slated to receive one-to-two feet of snow. And everyone believed them, too.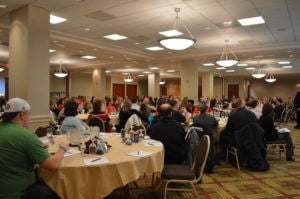 A full 24 hours before the storm was to arrive, advocates began receiving text messages from their air carriers—hundreds upon hundreds of flights were already cancelled in anticipation of the storm. As the day wore on advocates repeatedly checked their smart phone radar apps. Questions abounded:
Would the buses be able to get us to Capitol Hill?
Did we have a contingency plan?
Would the hotel allow us to stay another night?
Would the entire federal government close?
As the foundation's director of government affairs, I even called Members of Congress at home to ask… Could advocacy day possibly be saved? Nearly 200 advocates had already arrived and panic was beginning to set in.
As darkness fell Tuesday night, no one knew what the next day would bring. Boots, hats, gloves, umbrellas, and (if we could have found them) snowshoes would have been at the ready. At 5 a.m. even the all-powerful federal OPM (Office of Personnel Management) succumbed to the hysteria; the entire federal government would be closed on Advocacy Day. The streets must be kept clear for the snow plows. It was far too dangerous for federal employees to even come to work.
By 5:05 a.m. the news began to spread among advocates and by 5:10 my phone was once again ringing off the hook. Most were resigned (and by this point even happy to go back to sleep). I called Representative Gregg Harper and his policy director Scot Malvaney at home and woke them up. Had they heard the news? The news that all school kids north of the Mason Dixon line yearned to hear: a snow day, a snow day (!) had been declared in Washington DC! Chicken Little was right: the sky was indeed falling.
But wait. Gregg Harper has a son living with FXS. He too is an NFXF advocate. He more than most understands the importance of federal government funding of FX research and programming. He had also sought and received special permission to allow NFXF Advocates on to the floor of the House of representatives (an area which is never open to the public) for what has become his annual pep talk to advocates before sending them on their ways for a day of raising awareness and lobbying for the cause.
Surely, families that had survived the onslaught of Fragile X could not be deterred by a little (or even a lot) of snow, he thought. Moreover, there was really big news to convey. Recent research had inextricably linked FX and autism at a molecular level and treatments for FX, already moving through clinical trails, were likely to treat the core symptoms of autism as well. This was truly big news that the popular media was seemingly ignoring and which NFXF advocates were prepared to hand-carry to their congressional representatives.
So, like a vaudevillian magician Rep. Harper decreed: The show must go on! NFXF Advocacy Day must proceed!
Immediately the word went out to advocates at hotels across the city. The buses would depart from 12th and K at 6:45 a.m. as planned. The Capitol building would be opened at 7:30 to welcome Fragile X advocates. Advocacy Day was on!
Curiously, as we boarded the buses the streets were clear and almost dry. No snow and only sporadic light rain. But the sky was gray and cold, and surely the storm of the century was bearing down upon us.
We entered the House chamber and nearly half filled it. Gregg Harper spoke, as did our House co-champion Eliot Engel. A brief history lesson, a tour around the room, a pep talk, and our advocates were on their way. The underground tunnels that connected the Capitol with the House and Senate office buildings meant no one had to go outside, but as we passed windows along the way we observed: still no snow.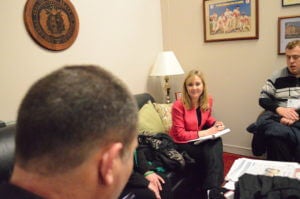 Advocates from age 7 to 75 fanned out across the Hill. A total of 186 participants reached nearly half of all House districts and nearly 70 percent of the Senate. Republican, Democrat, Conservative, Liberal, Tea Party, Independent, appropriators and key committee chairs and members—we saw them all.
As the day wore on advocates forgot about what had been predicted to be going on outside and proudly carried our message from office to office. And curiously, despite the federal government snow day, nearly every office was open, every member present and every office staffed.
Not only that—apparently other, less hearty advocates for other causes were scared away by the predicted uber storm's approach, so many offices were left wanting for visitors to occupy their day. Fragile X advocates seized the opportunity, accelerated their schedules, were granted longer, more substantive meetings, and even went to many offices asking for unscheduled visits. Normally they would only have expected to drop off a copy of our leave-behind folder, but on this Advocacy Day they were welcomed and in many (if not most) cases advocates secured productive time in these unscheduled visits as well.
The Weather Channels' master storm chaser Jim Cantore (proud father of two living with FX) was even in DC covering the end-of-the-world snowstorm. He would have loved to join his fellow FX parents but said he'd surely be too busy getting live shots of horizontal snow and people being blown down the streets by their inside-out umbrellas.
But as it turned out, at the end of the day, when FX advocates emerged from the House and Senate office buildings and the series of underground tunnels that connect them, the snow of the century had failed to arrive.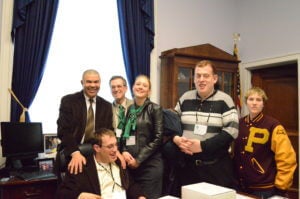 The NFXF's 10th Annual Advocacy Day turned out to be our best-attended ever. We checked in with all of our old friends on the Hill and welcomed all of the new Members of Congress with the hope of one day making them friends of FX as well. We hand-carried groundbreaking new science summaries further connecting FX and autism, and we made the case for commonsense funding strategies in tough economic times. We sought co-sponsors for the ABLE and TEAM acts and we were proud ambassadors for our family members impacted by FX.
Although Advocacy Day 2013 is behind us now, we know that our work has just begun for the 2013-2014 funding cycle. We survived the blizzard that wasn't and all the hysteria that accompanied it. But we have always been survivors.
If we can take on FX, what's a little snow?
---